---
As a filmmaker and writer, I love telling funny stories with heart. Much of my work is about growing up in some way, like my award-winning short Class of 84, about rebelling against your parents, and my new pilot for The Hub, about arriving at college and wanting to fit in.

As a producer and director, I bring my love of storytelling and comedy to a wide variety of projects. I started PokeGravy Studios as a way to take on part-time freelance work while I sought a more traditional animation job. I found my first clients on Craigslist and learned how to run a creative business as I went. That business grew, and now I direct videos for musicians like Billy Ray Cyrus and brands like Dell, and help places like Boston Children's Hospital illustrate their message.

I teach people of all ages. I share my own excitement for making things move with elementary schoolers through joyful, and often very silly, animation workshops. As an adjunct professor at Lesley University, I help students tell their own stories, and pass on what I've learned about surviving in a creative field. I believe teaching itself is an art form, and doing it has made me a better artist and connected me with a growing community of artists.

My favorite conversations are about creativity, mental health, and where those things intersect. I'm very passionate about building a community where those important conversations happen. On my podcast, I Loved This Conversation, I talk with other creative people about what they're going through. I co-founded AniMAtic Boston, which hosts events where I interview a wide range of voices from New England animation. I also bring these kinds of conversations into the college classes I teach.

Last but not least: both my client work and independent work are deeply collaborative. I am beyond grateful to every name you see in my projects' credits. I'll never pass up an opportunity to hire a talented member of my community to elevate a project by adding their unique skills and ideas.


5 Odds & Ends:

1: I'm based in Boston but I try to remember that as an independent artist I can sometimes leave and create from other places for a while. When I do this I call myself "Portable Sals."

2: Animation is my craft, but deep down I am a cartoonist. As a kid, my dream was to create a newspaper comic strip. I still just want to sit at a table, sipping coffee and drawing silly, silly pictures.

3: Growing up in the 90s, my creative community was my younger brother Adam, a musical prodigy, and my neighbor Ellery, a kid computer genius. We made the best camcorder movies, homemade games and Lego cities.

4: The name PokeGravy comes from "Poke & Gravy," the comic strip I created in third grade and drew until I was 19. I bought this URL more than twenty years ago.

5: Yes. I made that bathroom cartoon you saw online when you were a kid.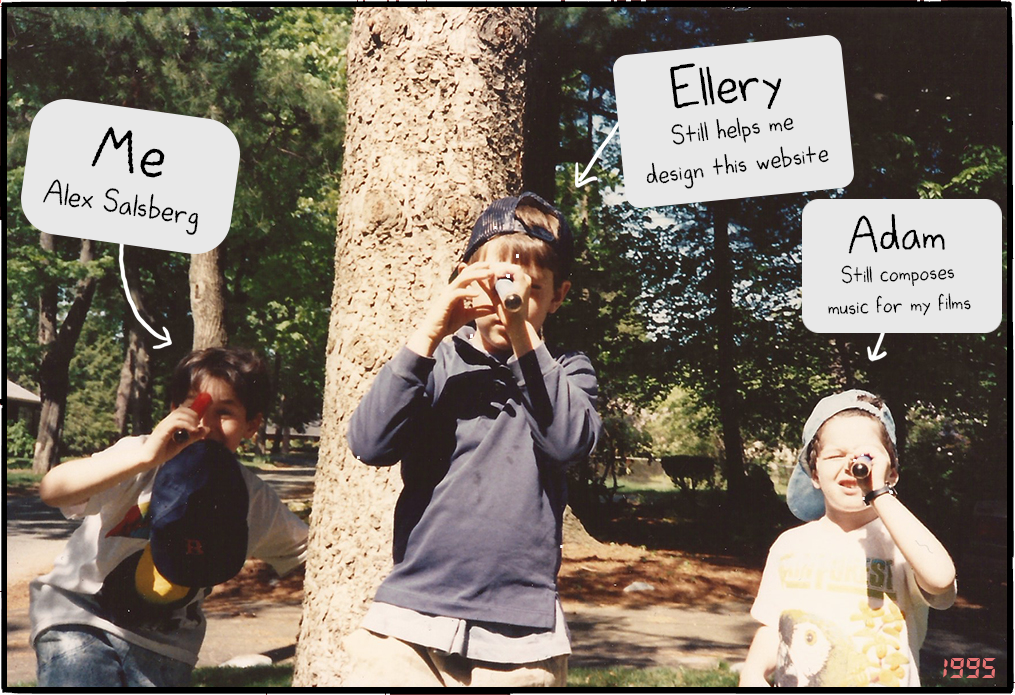 Top photo by Peggy Wang; Homepage headshot by Alexandra Botti; Above photo by one of our moms, probably?